General Information About the company
Leelottam Agro Industries, a Toor dal processing unit in Khamgaon, Maharashtra, is a fully automized plant developed by Buhler, switzerland (A world leader for machinery in pulse processing Industry). As a result, this plant's processing capacity is the highest in Maharashtra's Vidarbha area, implying that we can produce 100000 kg of untouched, hygienic, and healthy Toor dal every day for human consumption. All of the top brands out there, such as [Relience, Jio Mart, Patanjali, D-Mart, Future group, Flipkart, Metro, Booker's] and many more, are our clients because of our quality assurance and processing capability.
Toor dal, commonly known as arhar dal, is a part of the legume family that includes peas, beans, and lentils. It is also known as 'pigeon peas. It is an oval, yellow pulse that is widely used in Indian households as a staple food item. Toor Dal is also rich in iron, calcium, potassium, and manganese, which are all vital for heart health. Toor Dal is a protein-rich food with a nutty, earthy flavor.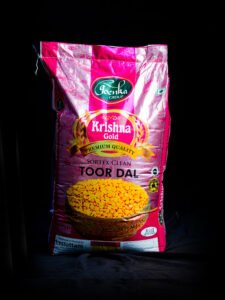 Toor Dal Production Process
Legumes go through several processes before they are ready to be used either as a plated item or as an ingredient in food preparations. These processes can include cleaning, drying, sorting, splitting, milling, and fractionating. Depending on the pulse and its intended use, other steps like de-hulling (decorticating), puffing, roasting, and grinding may be included as well.